2008 Awards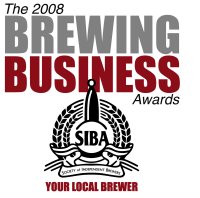 AWARDS GIVE CREDIBILITY TO BREWERS
SIBA's Brewing Business Awards present a golden opportunity for brewing members to
increase their credibility, both within the industry and among pub customers.
The awards, now in their third year, aimed to recognise professionalism, innovation and
commercial commitment. They were open to all of SIBA's 430 brewing members and had the
same ten categories as last year: best support for on-trade; best support for off-trade; best
packaging initiative; best innovation; best public relations initiative; best use of electronic
media; best promotion; best launch; best point of sale; and best sponsorship.
The winners of each category received an award and went forward to an extra round of
judging to decide the overall winner. The winners were announced at the prizegiving
ceremony at the Institute of Directors in London on 13th October.