2010 Awards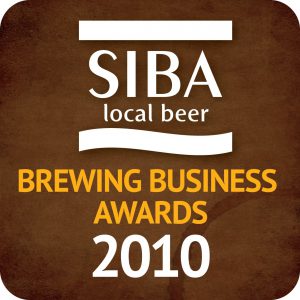 The 2010 SIBA Brewing Business awards took place at the SIBA Pub Retail Conference, 16th November at the Crowne Plaza, London.
Photos are available on our facebook page
To see more on the SIBA Pub Retail Conference, Click here
An environmentally-friendly evolution of its business has won Shropshire-based Hobsons Brewery the top title at the Society of Independent Brewers (SIBA) Brewing Business Awards 2010, presented last night in London.
Kate White, marketing manager at Hobsons Brewery; Nick Davis, Hobsons Brewery owner and Tim Croxson of Award sponsors Croxsons
Hobsons – which also won the Best Green Business category – was praised by judges for both its vision to become the country's leading sustainable brewery and its impressive implementation of environmental measures. These include a ground source heat pump system, wind turbine, lightweight packaging and locally sourced ingredients. Annual carbon emissions have been reduced by 17.4 tonnes.
Collecting the Award, Hobsons Brewery owner Nick Davis said, "Over time, we have constantly evolved our business, so it is gratifying to win this recognition from our industry experts and peers. We're grateful to our employees, customers and drinkers who have helped our business succeed."
SIBA received a record number of entries for the Awards this year, the fifth in which the competition has run. Last night, 16 brewers were recognised for their achievements across 12 categories ranging from marketing and PR to customer support and e-business. New for 2010, the Design Awards, rewarding the best design on pump clips and bottle labels, proved a popular category.
Julian Grocock, SIBA's chief executive, said, "The number and standard of entries to our Brewing Business Awards grows every year, reflecting the growing professionalism and business flair of our members. The fact that our overall winner this year is also the winner of the 'green' category shows the extent to which local brewers' have made their eco-credentials an integral part of their business success."
Tim Croxson of Croxsons, sponsors of the Best Overall Business Award, said, "The entries to these Awards highlight the wealth of entrepreneurial talent and creativity among SIBA brewers. Especially impressive was the long-term planning and vision shown by so many entrants, who are clearly building sustainable businesses for future generations, not just for short-term gain. Tonight's Award winners should be very proud of their achievements."
In recognising and rewarding SIBA brewers' business skills, the Brewing Business Awards complement the SIBA Brewing Awards, which assess the quality of members' beers through a series of regional beer competitions and a national finals, taking place in February 2011.